Books
"Threads" Sewing Guide
Amy Butler's Style Stitches
Amy Butler's in Stitches
Fabric for Fashion: The Swatch Book (Laurence King Publishing) (Spiral bound)
Found here on BookDepository
-
Bought it for myself in Feb 2013
The BurdaStyle Sewing Handbook
-
Got it from my Sis Christmas 2011 - Woohoo!
The Colette Sewing Handbook
-
Got it from my Mr (via Me) Christmas 2011 - Woop!
Readers Digest Complete Guide to Sewing
- bought it using my Christmas Giftcard from the Mr's younger Sister
Metric Pattern Cutting for Women's Wear (Hardback)
-
Bought it for myself in Aug 2014
Found here on BookDepository
Patternmaking for Fashion Design (4th Edition)
-
Bought it for myself in Aug 2014
Sewing Patterns I heart
McCalls 5006
- Misses' Lined and Unlined Shrugs and Lined Capelets and Top. Shrugs A, B have sleeve variations and purchased trim: shrugs C, D have front darts, collar, button closure and sleeve variations; shrugs E, F have ties in one with front and sleeve variation: capelet G has collar and ribbon ties; capelet H has binding and ties; tops have front darts and spaghetti straps; tops A, B have purchased trim on front.
View C of this pattern looks very similar to my favourite bolero from City Chic
New Look 6808
- easy top for wovens with 6 variations of necklines and sleeves. The bust darts and waistline darts (front and back) allow for a lot of fitting adjustments.
Good for smart and casual tops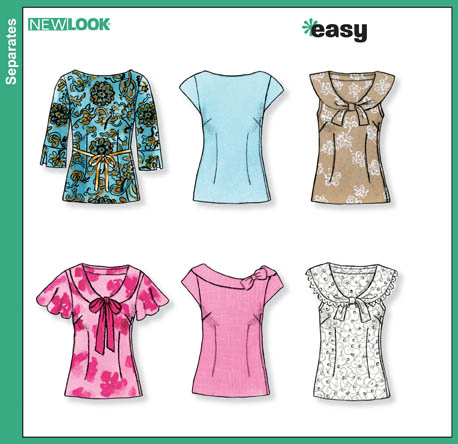 Kwik Sew 3530
- Romper and Jumper -
for romping and jumping about the house
Kwik Sew 3433
- Gauchos pants and Sash -
great loose fitting pants for casual wear
Simplicity 2478
- Bolero jackets -
I like the short sleeve options
Simplicity 2223
- Misses' jackets in two lengths with trim variations sewing pattern. -
I like the short length options.
Simplicity 2215 Cynthia Rowley Collection
- Awesome dresses with pockets
Simplicity 2512 Cynthia Rowley Collection
Slim knee-length skirt with gathering at waistband., with pockets
Vogue 1247
- Very loose-fitting top. Semi-fitted A-lined skirt has front in-seam pockets.
I only like the skirt. The top doesn't really appeal to me. Although I may be able to draft a similar skirt.
Vogue 8284
- Fitted dress, lined bodice, back zipper closing with front flange. A, B, E, F: back slit opening. C, D: pleated lower section. Armhole and sleeve variations. A: sash with hook and eye closing.
It's a look a like of the galaxy dress the fashion world was going nuts over a few years ago.
Megan Nielsen Kelly Skirt
- Incredibly flattering high waisted A-line skirt with fitted waistline. Features button front placket, wide waistband, large scoop pockets and pleating in the front and back.
McCalls 5523 - Straight skirt, mid-knee length, has side zipper and faced waistline; skirt A has shaped lower back flounce; skirt B has pleated lower back; skirt C has gathered lower back with self-fabric ruffle; skirt D has two lower back flounces. These would be great for work.
It's now in my stash!
Retro Butterick B5708
- Amazing multi-tie top dress circa 1953
Based on the reviews I don't want it anymore
Vogue 8295 - Flared skirt, below mid-knee has lined yoke and side zipper closure. A, B, C: stitched hem. B, C: purchased trims. D, E, F: hem band. E, F: contrast and purchased trims.
This skirt is very similar to McCalls 5591 and it doesn't have pockets so I don't want it anymore.
McCalls 5591 - Mid-knee length, pleated skirts have faced yoke and back zipper closure; skirt A has slash front pocket with band and contrasting lower band; skirts B and C have side seam pockets; skirt B has carriers and sash; skirt C has ribbon trim at lower edge.
It's now in my stash!